Gadgets
5 Smart Gadgets for Kitchen
By
|
All-in-one Aicool Smart Trash Can
Automatic smart trash can allows you to open the can without even touching it, it is best for the situation when your hand is dirty or you can't or don't want to touch it. The incredible new touchless technology guarantees effective sensor and high performance and will make your trash work quick and hassle-free.
Our Aicool trash can will assist you to seal the liners hassle-free and by itself. No more leaking or tearing. After the trash being taken away, the automatic trash can will turn a new liner itself. Just take the trash out, and leave the rest into the trash can.
No more worry about germs and bacterias or the odor from now on. The incredibly designed a solid lid will seal the germs inside. The carbon deodorizer will help you get rid of the foul odor for good. The fingerprint-proof coating assures you a fresh kitchen trash can every time.
Nespresso Expert Espresso Machine
Nespresso Expert Espresso Machine looks impressive and an amazing product to have in your kitchen, but it's also packed with innovations that will make you the best barista in your neighborhood. Bluetooth technology allows you to create personalized coffee drinks, with three temperature environments that suit your requirements. Being a combined machine means that you can record a brewing time and order new capsules and more.
Egg Minder Wink App-Enabled Smart Egg Tray
Knowing if the eggs in your fridge are good to eat is a hard thing to do but The Quirky Egg Minder will fix your morning labor. It will also keep count of your eggs, but it will also show you which ones are the oldest and which ones are about to go bad.
This is the ideal product for you if you regularly find yourself at the grocery store questioning if you need to buy eggs or have plenty at home. You will not come home with another dozen of eggs and then realize you had already had what you needed, meaning a waste of space in your fridge and money! With this Egg Minder, you will always know how many eggs in your home.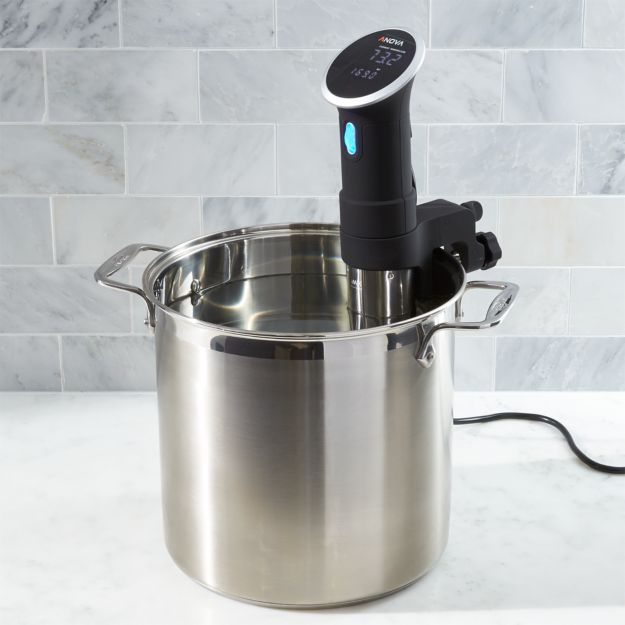 Anova WiFi Sous Vide Precision Cooker
Sous Vide Precision cooking is a new idea, but one that home cookers often swear by. Why? It's essentially foolproof. Precision cookers make it easy to get professional results at home, circulating water around the pot while ensuring consistent temperatures throughout your ingredients.
The awesome part about this gadget is –  the Anova – also connects to your phone via Wi-Fi or Bluetooth, providing you to cook your food with the touch of a button. The app allows you to schedule a meal so you can come home with a well-cooked tasty meal.
This new gadget is ideal for pretty much anyone! It's excellent for people who manage to overcook their food because Precision cooking holds food at a specific temperature. It is also excellent for more qualified chefs because it will give them pleasing results they are used to.
Non-Slip Silicone Connected Kitchen Scale
The Drop Kitchen Non-Slip kitchen scale is packed with Bluetooth connectivity and serves as a key cookbook and scale. It enables you to connect your scale to your phone or tablet via the Drop Kitchen app, then gets step-by-step instructions for making your meal.
Additionally, the scale will inform you as you add ingredients. If you need to add a few more ingredients, or if you've combined too much of another, the drop Kitchen non-slip silicone combined kitchen scale will inform you and tell you how to fix it.
Want to make the classic meal every time? Then you need the Drop Kitchen Non-Slip Silicone Connected Kitchen Scale. Also, it is excellent for those with a unique recipe and needs consistency every time.